---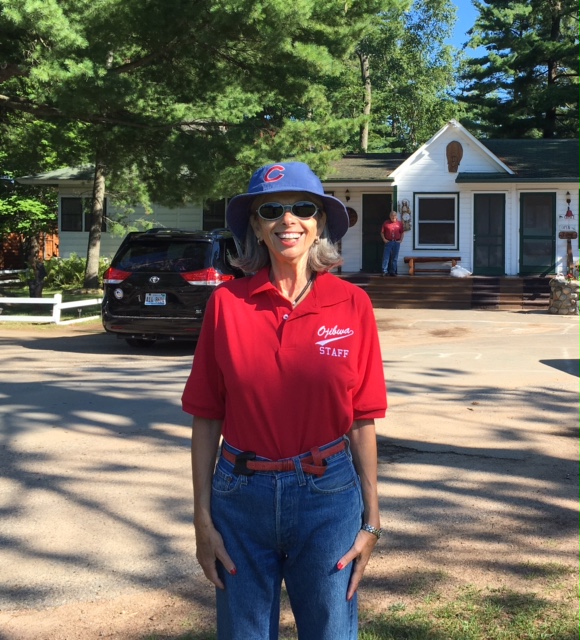 This post is dedicated to Sandy and Denny Rosen.  Keepers of the flame.
Take a look at the guy in the matching red shirt on the steps behind me. If you don't know him, that's Denny Rosen, Director of Camp Ojibwa and spiritual leader- and  master prime rib carver- of the annual summertime festival known as Post Camp.  More about Denny and the red shirts in a moment…
Many of you readers already know how I feel about this place.  Every summer I've gone on and on about its virtues.  And many of you are former campers or current Post Campers.
But just in either case you're a newbie, let me introduce you to one of the most magical places I know.
The campus of Camp Ojibwa in Eagle River, Wisconsin.
Here's Catfish Lake.
Or would some of you landlubbers prefer the baseball diamond?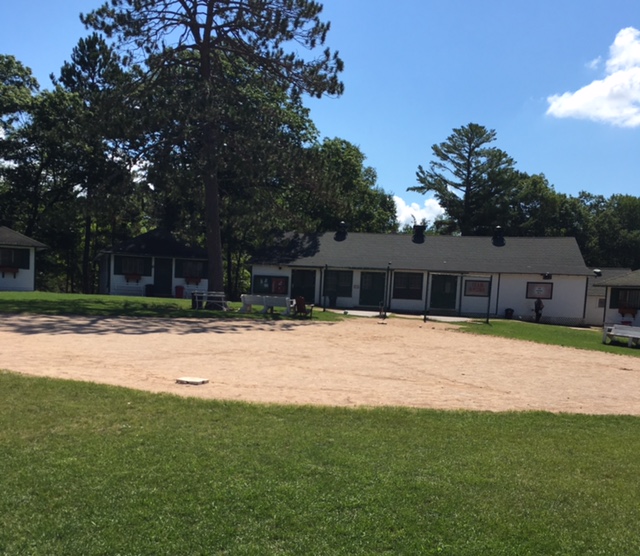 If chowing down is your thing, get a load of this.  (This is only part of breakfast but there are FOUR squares a day.)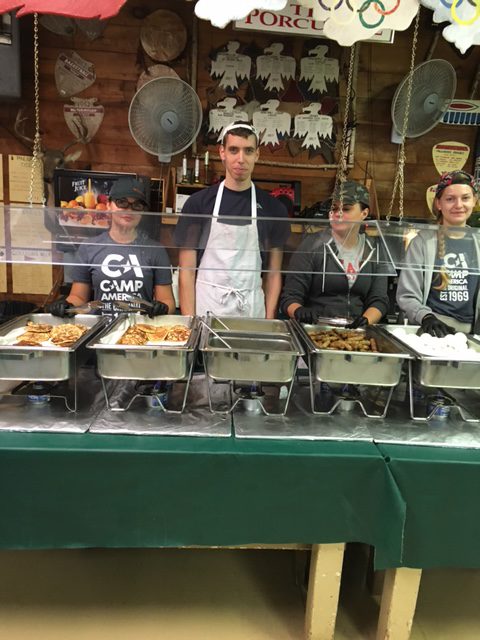 And after you have sailed or water skied or fished or climbed the rock wall or played tennis or golf or had a pickup basketball game or did the zip line or biked or hiked or tie-dyed or worked out in the gym or played softball under the lights or went to the dance or took a twilight cruise or saw the movie, you could always do this.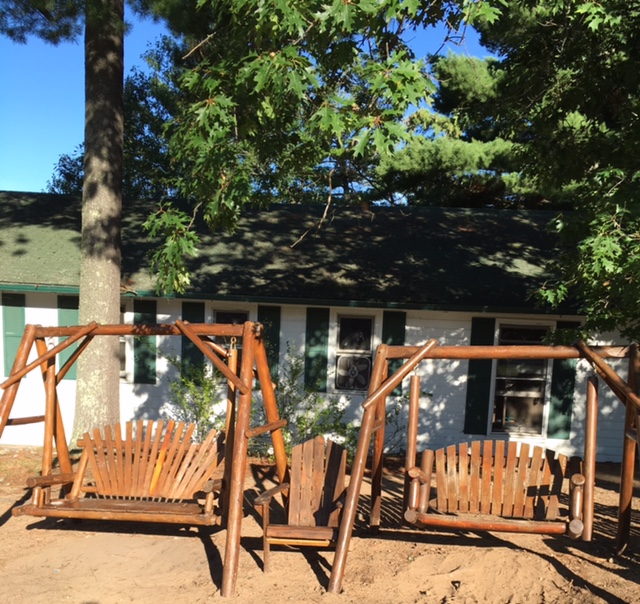 One of the things I love at Post Camp is the fact that you and your family can be as busy as your heart desires.
Or as lazy as your battered soul demands.
The outside world- along with cares and woes- disappears and you're left with the scent of pine woods and an echo of carefree childhood summer.
Another thing I love about Post Camp is my condo.  Take a gander.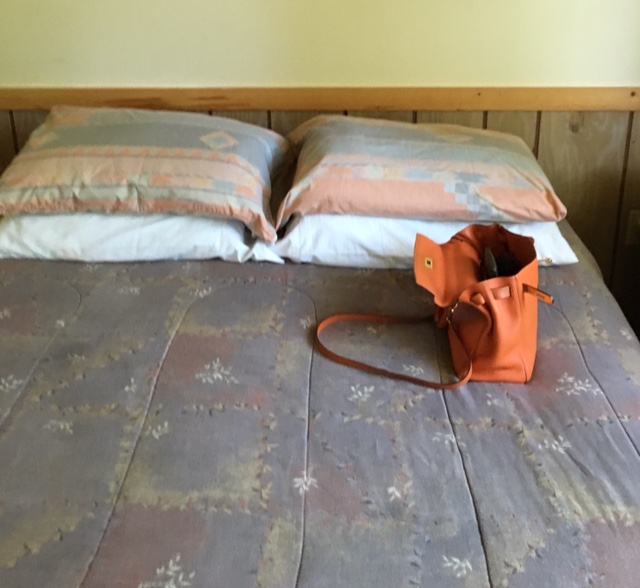 You can see the amenities like the fridge and flat screen tv.  But I love the bathtub, the heaters and the desk. This place is the Ritz of the North Woods and I look forward to staying in it every season.
This year, there was a tiny glitch.
My first night was spent in the camp hospital.
Nope, I wasn't sick.  A scheduling hiccup had arisen and Denny asked me if I would give up my four star accommodations for one night.
What was a girl to do?
Easy.
This.
The Med Shed.
Denny himself took me on a tour.
"I'm sorry that you're out of your condo for the one night.  But the whole place is yours. Which room would you like?"
I looked over the real estate and couldn't decide.
"Which room would you take?" I asked the Boss.
"I like the desk," he said.
Sold.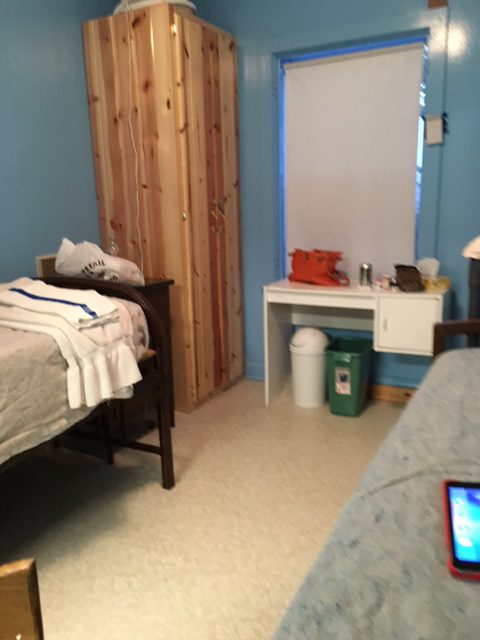 This must be the reception room.  You can't see it but hiding behind my stuff is a bell.  And there is a notepad on the wall.  I figure this is where the occasional under the weather camper reported.
I loved having the whole joint to myself at night.  (And I guess that made me ER in the ER in ER.)
Very Dr. Kildare.
Denny heaved a sigh of relief.
"You've been a good sport about this.  And I promised you a shirt."
He drove me over in a golf cart to a locked shed.
It was full of Camp Ojibwa swag.
I was drooling at the sight of all that clothing emblazoned with the camp logos.
Again I couldn't make a decision. Denny came to the rescue once more.
"Take this one," he said as he handed me a very cool red shirt.
What can I say?
The moment was pure 'Bwa.
What does that mean?
To me, it's shorthand for new friends becoming old friends.
Friends helping friends.
And friends becoming family.
I'm proud to be a part of it all.
See you up there next summer, Dear Readers.
Your bench is waiting.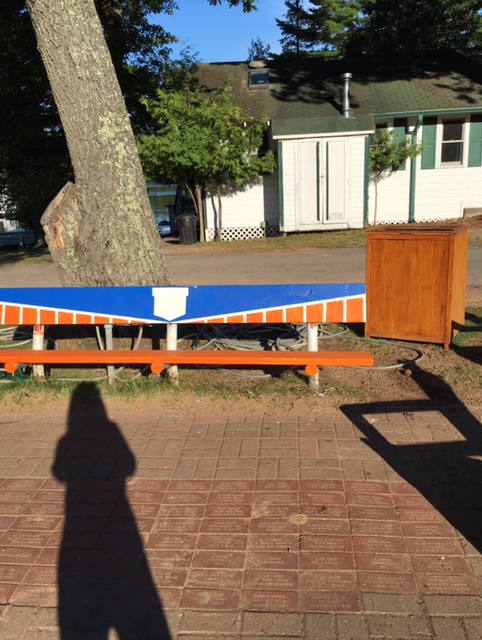 Now take a look at some camps that are nothing like Ojibwa.
Rise and shine, Campers!