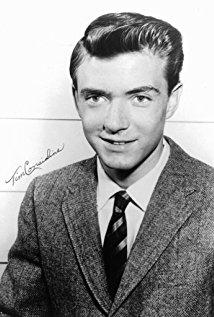 This post is dedicated to Rickey Freeman- with the generous forbearance of his beauteous wife, Joan. A kindred spirit when it comes to old television shows, he's sure to remember everything mentioned here.  Happy VD, my friend.
I hope yesterday was a very happy Valentine's Day for all of you, Dear Readers.   And in honor of the event, I wanted to harken back to yesteryear to the time in my life B.B.**
**That stands for "Before Boys."
When I was was an adolescent, my love life was uncomplicated.  Sure, I was infatuated with many handsome hunks.
But they were all in One D.
On tv.
And if I had to guess, I'd say that my heart stirred first at the cover boy that heads today's blog post.
Tim Considine.  Specifically as "Spin" in the Walt Disney serial The Adventures of Spin and Marty.
Let's join the boys of the Triple R around the campfire, shall we?
Spin could do everything. He was handsome, brave, a good sport, a great rider- the most popular boy in camp.  I was in love with this Mickey Mouse-endorsed male equivalent of Annette Funicello.
Uncle Walt must have agreed that he had a big star in Tim.
He made him a Hardy Boy.
And then he cast him The Shaggy Dog.
Fred MacMurray must have liked working with Tim, too, because from there he ended up as "Mike" on My Three Sons.
Truth be told, I had kind of a yen for the middle brother Robbie, too.  Played by Don Grady, he was real cute, and when older brother Mike got married…well, that left Robbie for me.
Well I remember the night that Robbie's wedding aired.  Girls were glued to the common room television set- with their hair in rollers- waiting to get a glimpse of theses thrilling tv nuptials.
(As for yours truly, I had a real life date by now.)
But the boys of MTS didn't take up all the room in my pre-teen heart.
There was this guy.

That's Richard Chamberlain- in case you didn't recognize him- and to me he will always be Dr. Kildare.
Here he is with Barbara Eden and another love of my life (but only when he was portraying Maynard G. Krebs) Bob Denver.
But I didn't restrict my guys to the big cities.  I liked them on horseback, too.
Guy Williams as Zorro
Annette Funicello had a BIG crush of Guy, as well. For her birthday, Uncle Walt gave her a guest-starring part on Zorro.
Neat-O.
Another Disney serial gave me heart pangs, as well. I had a big crush on Buddy Ebsen as trusty sidekick Georgie Russell in The Adventures of Davey Crockett.
Then there was Robert Horton as intrepid trail scout Flint McCullough in Wagon Train.
And I liked my tv heartthrobs mysterious, too.
Spies and private detectives were very big with little ol' me.
Let's start with Ilya Kuryakin- David McCallum- in The Man from U.N.C.L.E.
Sigh.
Here he is impressing Nancy Sinatra.
And I was nuts about Stu Bailey- Efrem Zimbalist, Jr.- on 77 Sunset Strip.
Check out the cool car and the cooler patter.
Doug McClure as Jed Sills on Checkmate captured my queen.
And even though I was a senior in high school by this time, I made room for my first real girl crush. Diana Rigg as the alluring- and lethal- Emma Peel on The Avengers.
Check out her very first meeting with John Steed.
Only too too FABULOUS.
Never going to top that.
Be still my tv heart.
BTW, I'll always be in love with these guys.