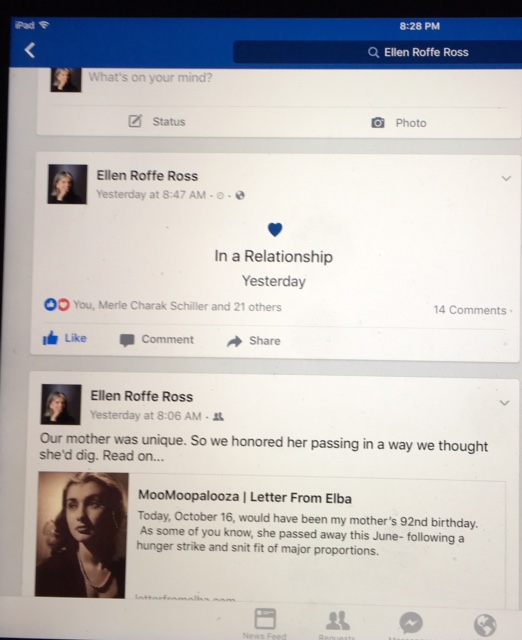 Last Sunday, at 8:47 a.m. I had a major Life Event.
I changed my status on Facebook.
Yep, that's a picture of my page commemorating the event.  I went from "Divorced" to "In a Relationship."
But I have to tell the truth here, Dear Readers.
I never meant for it to be a public announcement.
Honest.
By now, most of you know that I have a boyfriend.  I introduced him (sort of) a few blog posts ago.
Meet John Doe Sidebar:  For his protection I have purposely hidden his identity.  Poor guy.  It's bad enough he's hooked up with a gal with her own blog.  He's been a good sport about it.  But I don't feel it's right to expose his private life to the public eye just because he's going out with yours truly.  Hence, I've kept his name, rank and serial number unlisted.  My close friends and family have met him.  That's good enough by me.  As for the rest of the story, I don't want to be Barbara Stanwyck betraying Gary Cooper just for the sake of a bigger circulation.
So mum's the word on any identifying marks on him.
But last Sunday, as I was idly gazing at Facebook, I decided to change my status.  I really can't say why I was prompted to do this.  Just an impulse.
Four years ago, when I first went on FB, I knew very little about how the whole megillah worked.
I had reluctantly joined up at the urging of some book agents in New York who demanded I get a "social media presence" to further my readership.  I was so un-FB savvy that Nick, in fact, had to sign me up and create my page.
And truth be told, the strategy worked.
My blog grew and grew.  Thanks to Facebook and Twitter, I am now read by more and more people every month.
And I've "met" wonderful people in the bargain.
New Facebook friends and Twitter followers who read and share my posts.
And they correspond with me, too.
I see their lives and families.  I cheer about their ups and sympathize with their downs.
I have not met many of them IRL- as we say- but I feel a bond and am glad they have let me into a small corner of their world.
But back to when Nick signed me up…
As usual, he didn't have a lot of time to spare on the nuances and niceties of Facebook or Twitter.  He quickly asked some key questions and then left it all up to me.
"You'll figure them out, Dude" he assured me.  "And you'll be good on Twitter, you'll see. I've got to go."
I was doubtful but I went home to ponder the brave new world into which I had plunged.
There were some stock questions to fill out for Facebook.  Birth date, schools attended- boilerplate stuff like that.
It all seemed harmless enough.
And then I came to the tougher question about my current love life.
At first, I didn't want to answer it at all.  It seemed like nobody's business what my relationship profile was.
(And besides, with  marital history like mine, none of the ordinary categories seemed to fit.)
But I bit the bullet.  This was Facebook- not To Tell The Truth, I've got a Secret or 60 Minutes.
So I chose "Divorced" and left it at that.
It stayed that way for almost four years.  I had completely forgotten all about it.
But last Sunday, it suddenly occurred to me that I should possibly update it.  That way, anyone looking me up would be provided with more accurate information about my availability as a potential date.
It never occurred to me that this would be put out there to all my Facebook friends.
I swear on the kids that I thought that changing my status only impacted those few people who would be interested enough in me to look for additional biographical details in my profile.
I HAD NO IDEA THAT IT WOULD BE OUT OUT IN THE FACEBOOK STRATOSPHERE FOR ALL AND SUNDRY TO READ.
Oops.
I knew something awful had happened about one minute after I changed my "Divorced" status to "In a Relationship."
Friends around the country started reacting to the news instantly.
Oh No! What had I done?

My secret was out.
Everyone seemed glad for me.  (Although more than one friend pointed out that he would miss my bad dating posts on the blog.)
That came as no surprise.  I knew from past experience that readers universally enjoyed reading about my horrific forays in the world of "gray" dating.
They enjoyed my pain.  And more than one friend told me that my hair-raising experiences on some of these dubious outings had convinced them never to try it for themselves.
But thanks, Facebook Friends, for all your congratulations and wishes for a happy future.
And what the heck?
As long as my new status is- as my friend Julie Epstein says- "Facebook Official," I felt like I should let you, my Dear Readers, in on it, too.
But any further questions about this relationship…
I think I'll let the Spinners handle that.
Take it away, guys.