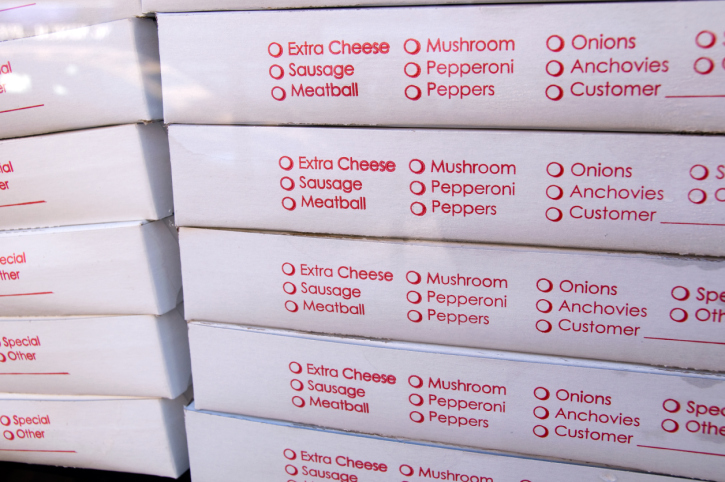 Growing up in Wilmette, Illinois was pretty idyllic for my brother Kenny and me.  Life was small-town and carefree.  But there was one cloud that loomed over our sunny, Mayberry existence.
Our mother was terribly phobic.
Dogs, airplanes, elevators, cabs, downtown Chicago…if I went on to list the things of which she was deathly afraid there would be no room for this post.  Kenny and I took it in our stride.  We completely ignored her mishegoss and did everything and anything we wanted to.  We never internalized this nonsense, thank goodness.
But for some unknown reason, my mother's Phobia To End All Phobia's was- the pizza delivery man.
She was paranoid about strangers and she felt that any guy who came to your house when you called him would turn out to be, not to put too fine a point on it, Richard Speck.
Thus Kenny and I were strictly FORBIDDEN- under pain of death or permanent grounding- to ever order in pizza.
(And as we called our house "The Locker Room" and tried to be there only to change clothes, strict confinement to quarters was death.)
But, as I said, we simply bypassed her nutty edicts and the minute my folks were out of the house on Saturday night, my always-hungry little brother would be diving for a phone.
His pizza/ribs window of opportunity was small.  Our folks never stayed out much past eleven and he needed time to:
1. Order
2. Wait the (endless) hour that the delivery always took
3. Eat
4. Dispose of the evidence
Every step was fraught with danger.  Time was of the essence, and back in 1965 there was no Grub Hub app to get your food at a moment's (and cell phone's) notice.
There was Tonelli's in Glenview and The Spot in Evanston.  These two joints served as Kenny's cheese and sausage dealer/baby back connection every Saturday night.
(By this time, I was dating and out to dinner with some favorite beau on Friday and Saturday nights. Poor Kenny was left at home most of the time- driver's license-less and ever-hungry.  But I had a Birdseye bird's eye view on all of this, trust me.)
If the wait was agonizing, the garbage disposal process was tricky too.  All traces of rib bones, sauce containers, paper napkins, plastic forks, slaw cups and pizza boxes had to be completely erased.
With so much riding on it, Kenny was always justifiably anxious when it came to cleanup.
The garbage disposal was out.  (What if it jammed on a Spot rib bone?)  Ditto the garbage cans.   What if our mother took a good look inside the one in the kitchen some day?
And the same held true for the big, silver metal ones kept outside the back door.  We could not risk a verboten Tonelli's pizza box turning up in there, either.
We couldn't dice with death.  So what do you do if you're a car-challenged little kid?
Easy.  Jump on your bike, ride like hell and then dump all the evidence over the bushy fence onto Edens Highway.
And although Steve Gersten and Jimmy Edelstein used to tease us both non-stop that they knew where we lived just from the detritus of pizza boxes and rib bones piling up along the roadside, my brother gave new meaning to the word "recycling."
Kenny's system was not always fool-proof.
There was an ugly rib bone incident when Jimmy, returning me home to meet my very strict curfew,*** casually gnawed on one he commandeered from Kenny and then absent-mindedly laid it down on the counter next to the sink.
Luckily Kenny spotted it the next morning- just before my mother clapped her eagle eye on it.  Quick as a flash, he covered it with his hand.  His well-known great hand-eye coordination had saved the day.
And our collective asses.
(***Another one of my mother's groundless fears.  She felt that you were safe on the streets of Glencoe until 11:59 but promptly at midnight you'd be raped and murdered so I had to be home.  No matter what.  This also led to some very interesting, high-speed drag races to beat her clock.)
Then there was the time that our neighbor Mrs. W. innocently asked our mother how she had enjoyed her pizza last night.
Her query was met with a blank look- and then an alarm bell went off in her head and Mom went to ambush Kenny.
Fast thinking was required on his part- but he could always outwit her when it came to food.
"Did you order a pizza last night?" she pop-quizzed him suspiciously.
"Oh that wasn't me.  A  delivery guy stopped here looking for the same street address.  In Skokie."
"Hmm."  My mother was not entirely convinced, but then again she had no hard evidence (see the section on "Garbage Disposal") to convict with.
But the closest we both came to life in prison was during a wintertime.
My folks had taken off to Deerfield to see some friends.  As quick as you could say "large cheese and sausage please," Kenny was dialing The Spot.
Mission Accomplished.  Houston we had lift-off.  Our pizza would be in our hot little hands in an hour.
And then my parents came home.
A bad snowstorm had closed the roads and they had sensibly turned back.  Their safe arrival triggered a Def Con Ten Red Scramble No Go No Go Pizza Alert.
This was not a drill!
"What do we do?" I asked Kenny- panicking as I saw before me my carefully-crafted social life cut off forever.
"You stall 'em upstairs while I call and cancel the order downstairs."
Roger that.  And I manfully made my way up the stairs, and kept my mother trapped in her bedroom as I regaled her with some nonsensical gibberish about school or something.
As I filibustered, I could hear, out of the corner of my ear (is that an expression?) my brother PLEADING with the guy on the other end of the phone.
"You've got to cancel that order.  I don't care if it is in the oven.  You can't deliver it.  I'm begging you."
Finally, after an eternity, I heard him hang up.
I hastily wound up my conversation with my mother and ran to find him.
"What happened?  What did he say?" I asked terrified.
"It's okay.  He said that he'd cancel the order.  But he also said never to call there again. From now on, we're on The Spot blacklist."
Whew.  I could live with that.  We would never ever have their pizza again but me, Kenny, and my social life would live to fight another day.
But guess what?  I was idly trolling the Internet and I found The Spot.  After it closed down in Evanston,  it didn't die.  It just moved to La Jolla.
The Spot's new Cali number is (858) 459-0800 and though their number may have changed, I can see by the menu that they still have our fave pizza and ribs.
I'm calling Kenny.  We go out to San Diego on occasion, and after all, it has been forty-eight years.  I bet we've outlasted the statute of limitations on their blacklist by now.
Just keep it under your hat.
I don't want to get grounded.