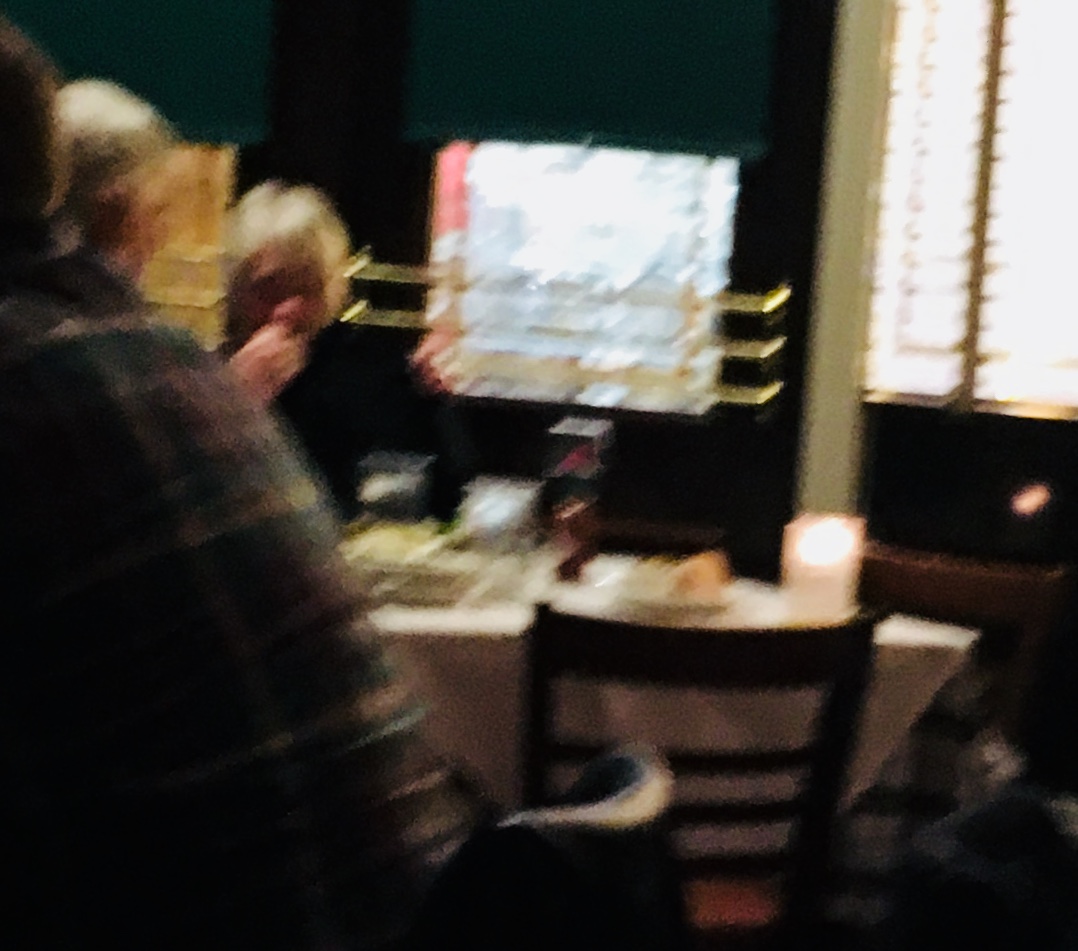 Okay, Dear Readers.  I need your help.  Something has been driving me nuts and maybe you can solve the mystery and resolve my problem.
See the blurry photograph that heads this post?  I want to know who that woman is.
Back Story:
When I got home from my Boston Christmas trip, TBF picked me up at O'Hare.  From O'Hare we went to Hugo's in Naperville.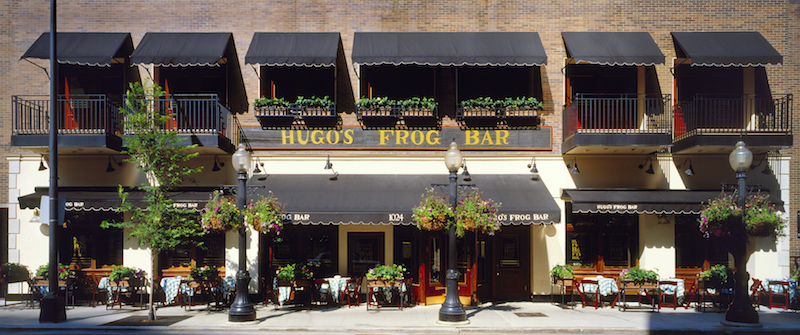 Yum Yum Sidebar:  Did you know that the Naperville Hugo's has hamburger sliders?  The Chicago Rush Street version only has filet sliders.  The burger ones are terrific.
Anyhow…the restaurant was jammed.  Wall-to-wall people still holidaying it up.  We were one of a few two-somes in the joint.
As I happily surveyed the scene, I espied anther couple at a table over by the wall.  They were separated from us by a table of ten businessman- who by the looks of the ribeye and twice-baked potato-laden trays the waiters staggered under- had huge appetites bolstered by huge company credit cards.
But something about her caught my eye and I peered through the hearty men and their wine bottles and martini glasses to get a better view.
The woman looked exactly like…
Wait for it.
Helen Mirren.
Huh?
How could this be?  How could one of the world's greatest actresses- and a personal favorite of mine- be sitting at a table at a restaurant in Naperville?
I was intrigued.
It was easy enough to check.  If it was Helen Mirren, the man she was with would probably be her husband, director Taylor Hackford.  I'd just take a quick glimpse at him and the question would be settled.
Damn.
He looked like Taylor Hackford.  I was screwed.
Now my whole evening was going to be a game of "Helen or Not Helen?"
I didn't want to be a jerk.  I didn't want to be rude.  I didn't even want to take a picture of them.  But I could not stop glancing over there.
She noticed.
I felt like such a douche.  If this person was in fact, H.M, wasn't she entitled to eat her dinner in peace without dumb a-holes like me staring at her?
And if she wasn't H.M., she had to wonder why some random woman kept gawking.
But I just couldn't help myself.
Dame Helen is an idol of mine.
My love affair with her started in 1987 when she played real life criminal Alma Rattenbury in Cause Célèbre.
But that was only the beginning.  In 1991 came Prime Suspect.  As DCI Jane Tennison, she had me at "I arrest you in the name of the Crown."
Then came The Madness Of King George, Painted Lady, Greenfingers, Gosford Park and Calendar Girls.
And then in 2006-
The Queen.
OMG.
This bravura performance won her the Academy Award.  It also happened to be the last movie I ever saw with my father.  We were both riveted by her magnificent portrayal of Q.E. II.
But H.M. had more tricks up her cinema sleeve.
Just watch Hitchcock, The Hundred-Foot Journey, Woman in Gold or Trumbo to see what I mean.
She has won the Brits' triple crown for acting: The Academy Award in 2007 for The Queen, the Olivier Award in 2013 for her stage performance of The Audience and the 2015 Tony Award for the New York production of The Audience.
And she can rap!
As you can see, I'm just wild about Helen.
But with all my gaping and staring, TBF could see that my mind was not on my sliders.
"What's up?  Why do you keep looking over there at that table?"
"I know I must be crazy but I think that's Helen Mirren.  Why would she be here tonight?  It makes no sense."
And then the Mystery Woman got up.
There was a large family party celebrating something at the table next to hers and instead of walking right past them, the lady in question stopped, spoke with them and gave her congratulations to the woman at the end of the table.
Would a regular person do this?
That was it.  I HAD to find out who she was.  Our waiter, Brian, had been taking care of their table as well, so I wondered if he knew something.
"Who are those other people you're waiting on?   Do you know anything about them?" I casually queried.
"They told me that they are from Minnesota.  They have family in the area," he replied.
Hmmm.  Now I was more suspicious than ever.  Would an ordinary person from Minnesota radiate charm and be an irresistible magnet to the eye?
Would an ordinary person from cold, undemonstrative Minnesota stop at a tableful of strangers to chat them up?
This woman looked so out of place at Hugo's in Naperville.
But when I saw her as a presenter at the Golden Globes, she looked right at home.
You be the judge.